Speed Sensor Repair GE Sensors $20.00ea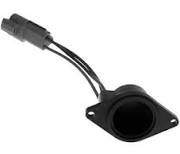 GEM™ Club Car™and Many other LSV Vehicles.

Shelby Control Systems is rebuilding speed sensors using OEM parts, these units are designed to meet the OEM Specifacations exactly. These Speed Sensors are found on GEM™ Club Car™, Yamaha™, EzGo™ and many other LSV vehicles using GE™ or Advanced™ electric motors and are not CLUB CAR Specific, but are designed by the motor manufactures.

You ship your rebuild-able speed sensor to us; we completely strip it down, install a new OEM sensor, new wires, new OEM plug pins, and then reseal the sensor cavity.

We give you a six month warranty. After market units have either very little or no warranty.

After purchasing you will be contacted by Email and given a 'ship to' address; once we receive your speed sensor it is generally repaired and shipped out within 24 hrs.

Each speed sensor will be tested twice, prior to any work being done, and again after the repair just prior to shipping. All units will be tested prior to repair! this is done to assure there was a problem with the unit, and that repairing will give you the results that should be expected.
How to test your speed sensor CLUB CAR™
With the key on, forward / reverse switch in the forward posistion, get off the cart and push forward, It should roll freely for about 1 to 2 feet then slow down and have resistance the reverse buzzer may (should if working) buzz.

You can download the schematic off this site for your cart for this next step.

Using a volt meter at the controller on the speed sensor output (green wire) and the speed sensor ground (black wire) while pushing the cart very slow you should notice a transistion from 0vdc to 5vdc. Next stop pushing while on 0vdc, then push until its 5vcd and stop, it should hold (latch) on these voltages if not its bad.

---

Speed Sensor Part Numbers

| Part Description | Part Number | Supplier | Price $ |
| --- | --- | --- | --- |
| | | | |
| GEM CAR SPEED SENSOR | 0606-00272 | Shelby Control Systems | $20.00 |
| CLUB CAR SPEED SENSOR | 102265601 | Shelby Control Systems | $20.00 |
| CLUB CAR SPEED SENSOR | 102704901 | Shelby Control Systems | $32.00 |